Yesterday, The
Independent's Pandora column
revealed Stephen Berkoff's plans to write a new verse drama, described as a 'dark comedy about the implosion of Tony Blair's premiership.' The column gave an interesting glimpse of an early draft of the opening scene of the play ('tentatively titled Albion'), including some of the following lines:
"Cherie:
Like Boadicea I must seem
the sunlight's sparkling little glints
upon my new-oiled precious curls.
That's worth a mere 250+ a day my darling
don't you think? How the filthy British press
can't wait to make their rancid stink.
Tony:
Like we should live like monks, or purer
and wear a loincloth round our limbs.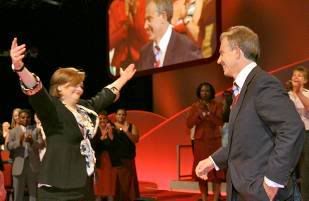 'Boadicea' and her beau
Cherie:
Take care, we're in the stinking public eye
a great big bloody bulging orb
that sits above a filthy yelping mouth
that just can't wait to squeal and shout.
So have a care: be subtle when you claim
- those dodgy expenses - play the game."
It's quite fun, like a naughty note about the teacher passed around the class, but could this weirdly-archaic syntax and over-the-top imagery be sustained for much longer than a Two Ronnie's sketch? Berkoff is probably going for a Brechtian style, but I'm sure a lot more fun could be had with the pentameter by using it to bring to life Tony's trademark speech patterns.